To Our Valued Customers
At Vernon and Salmon Arm Home Building Centre, we always make the health and well-being of our valued customers and staff a priority, and are aware of the important role our stores play in providing essential products and services to our customers and communities. As we navigate the rapidly evolving corona virus (COVID-19) situation together, I want to inform you of the additional precautions we're taking at to serve you.
We've spent the last few weeks preparing for the different ways the virus may impact the people we serve. We will continue to keep you, our valued customer, and our staff at the centre of our planning and decision-making.
Supporting our Staff
We continue to share information with our staff on how to keep themselves and their families safe and healthy. We encourage anyone who feels sick to stay home in order to help prevent the spread of the virus. We continue to give our staff  flexibility and support  so they have the time they need to stay home and get better.
Keeping our stores clean and safe
We've always been proud of our stores' cleanliness and operations, and we know that keeping them clean and sanitized is now more important than ever.
In addition to our daily cleaning efforts, we're increasing the amount of time that is spent cleaning and sanitizing our stores, especially in our most frequented areas such as checkout lanes, restrooms, and associate break rooms. The bottom line is that we want you to feel comfortable shopping in our stores.
We have installed shields around all of our Customer Service areas to ensure the safety of you our customers and our staff.
Stocking and delivering products you need
To ensure the products you want are available when you need them, we are working closely with our suppliers to restock our shelves as quickly as possible.
We continue to offer more ways for you to get the products you need most—whether that's through online purchases, in-store pick-ups, or delivery options.
Customer Service
To limit social interaction for our staff and customers we would ask that in-store shopping be for essential items only. BC Regulations state that masks must be worn while in the store.
We would encourage you to place orders:
By phone for Vernon 250-545-5384, or for Salmon Arm 250-832-7722
Email: community@hbcvernon.ca.
or: contractsales@hbcsalmonarm.ca
The orders can be picked up in our parking lot. Just call when you arrive, stay in your vehicle and we will bring them out to you. Charge or debit only.  For those who cannot get to our store small deliveries in the immediate Vernon and Salmon Arm areas that can be made in a pick-up truck will be free. Social distancing procedures are in effect both in-store and in our yard and parking areas.
Items can also be ordered online at https://www.homehardware.ca. Choose Vernon Home Building Centre or Salmon Arm Home Building Centre as your store and click "ship to store". When your order is ready for pick-up we will call you.
Installations and Deliveries
If you have concerns about installations, deliveries, or in-home consultations, we're here to support you and offer flexibility to reschedule at your convenience. Please contact us if you have questions or want to reschedule any services:
Thank you for your support and understanding during a rapidly evolving situation as we make every effort to support our customers and staff
View more of BlazeKing Wood Stoves or Enviro Fireplaces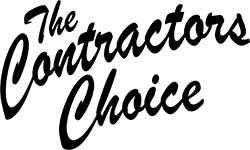 ends July 28th 2021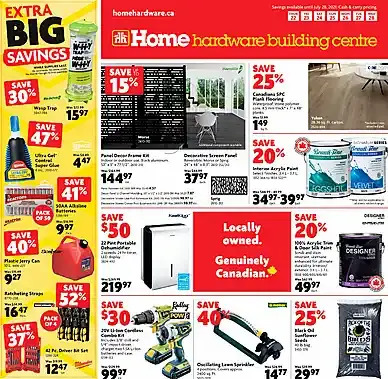 Home Building Centre – Flyer Specials
(Flyer Expiry Dates for these specials shown per product)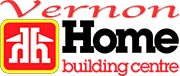 No Online Orders – Available In Store ONLY
(We reserve the right to limit quantities)
Home Building Centre

Flyer: (ends) July 28th, 2021
The Weekly Sale
ends July 28th, 2021
Home Building Centre – Flyer Specials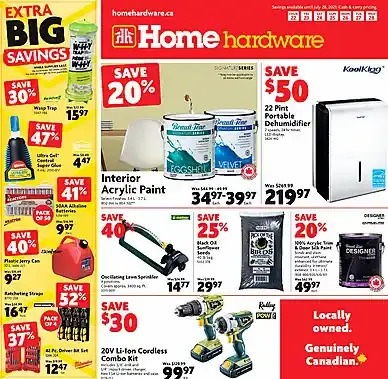 (Flyer Expiry Dates for these specials shown per product)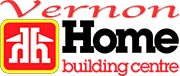 No Online Orders – Available In Store ONLY
(We reserve the right to limit quantities)
Home Building Centre

Flyer: (ends) July 28th, 2021
Top Notch Rewards Program For Contractors
Top Notch Rewards is a loyalty program specifically suited to meet the needs of our contractors, a reward program for professionals, those who make a living from the products and services they purchase, … and it's free. Absolutely free, No membership fee, No maintenance fee.
read more…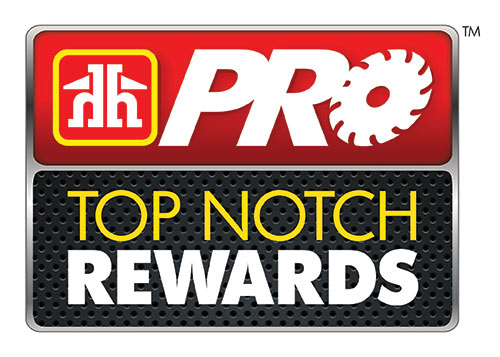 Great Gas Fireplace Rebate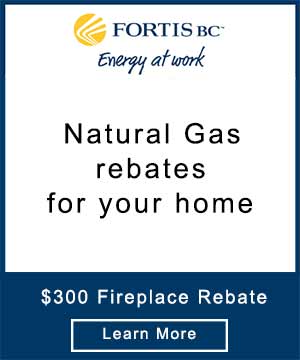 With any eligible gas fireplace purchase and installation, Fortis BC will rebate you $300.
Conditions apply, please attend the Fortis BC website for all the information and conditions.

See Fortis Rebate page
You can also view our Fireplace page — or Come In and speak with our fireplace expert! He can help you with any questions about all types of fireplaces.